A series of garden rooms
There are 40 acres of formal gardens at Wentworth Castle st around the beautiful Georgian mansion.  Their  structure and design reflect different periods of garden history and the differing interests of the generations of Wentworths who lived here.  There are also 20th century additions, such as the three national plant collections.
Some parts of the garden are formally laid out, such as the 18th century Union Jack Garden, and the Victorian Flower Garden, known locally as the Secret Garden.  Others have an intentionally informal feel, such as the Wilderness.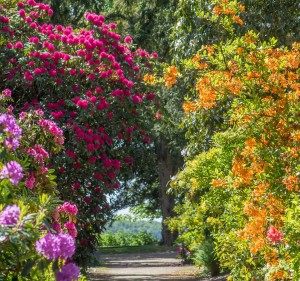 The Gardens are at their most vibrant between March and July, as first the camellias, then the early rhododendrons and finally the azaleas come into bloom.  There is colour to be found year round, whether it is the last hydrangea of the old season or the first snowdrop of the new year, whilst the beautiful architectural quality of the mature trees gives pleasure at any time of year.
Gardens tours are a great way to get to know these unique gardens.  For further information about tours, please telephone 01226 776040 and ask for a Group Visit pack.
The Gardens are also great for school and youth group visits - for further information check out our Schools pages.