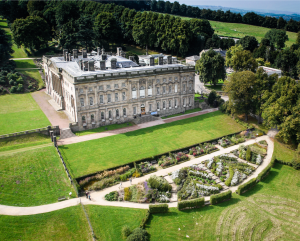 A Tale of Two Wentworths, Two Thomases & Two Castles
The beautiful gardens and parkland at Wentworth Castle are the only Grade 1 listed landscape in South Yorkshire. The estate contains many remarkable features, and is of great historical significance, yet the house and monuments have their origins in a fierce family rivalry.
In 1695, Thomas Wentworth expected to inherit the landed estate and vast wealth at Wentworth Woodhouse, some 7 miles to the south of Stainborough, when the 2nd Earl of Strafford died childless in 1695. Unexpectedly, however, the estate was left to Thomas Wentworth's cousin Thomas Watson.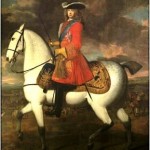 Although Thomas Wentworth went on to command high positions as a soldier and diplomat in the service of King William III and Queen Anne, he remained determined to re-establish his claim to the title of Earl Strafford - but to have any chance of achieving this he required a large landed estate.  An opportunity arose in 1708 to purchase what was then known as Stainborough Hall and Thomas seized his chance to create an estate suitable for a man of his importance. Queen Anne duly re-created the Earldom of Strafford and Thomas became the first Earl Strafford of the second creation.
As the Queen's ambassador to the Prussian Court in Berlin, Thomas Wentworth was familiar with the Baroque style favoured by European nobility.  Between 1709 - 1715 a new Baroque wing was added to the old Stainborough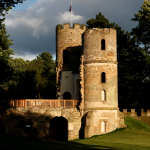 Hall, giving us the magnificent East Wing of the House that overlooks the M1 valley today.
In 1727, Thomas began to build a mock castle on the highest point of the estate. He called this Stainborough Castle, and on its completion in 1731 he renamed the house and estate as Wentworth Castle.
Thomas was succeeded by his son William in 1739, by which time the fashion was moving towards laying out gardens in the more naturalistic style made famous by Capability Brown.  By this time the ornate Baroque style was also out of fashion, and William's legacy is the elegant South facing Palladian Wing of the House.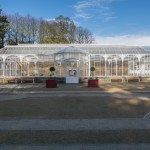 Each subsequent generation of the family added their own style to the house and gardens.  In the 19th century, the Vernon-Wentworth family completed the house we see today with the addition of a west wing (towards the gardens) and also added the delicately ornate conservatory which was restored by the Trust in 2013. Each generation also introduced trees and exotic shrubs to the Pleasure Grounds, creating the 40 acres of formal Gardens that are here today.
In 1949, Captain Bruce Vernon-Wentworth, sold the house to the Barnsley Corporation who established it as a teacher training college.